FB Private Videos Downloader Online Facebook 2020
Please wait a few seconds...
FB Private Videos Downloader Online Free - Download Facebook Private Videos Online HD 1080p
Facebook is the world's most visited website after Google and one of the most used social media giant with billions of active users. Facebook has great importance in our daily lives just as water and food because it's considered one of the significant sources of communication in this modern era. Everyone loves to make new friends on Facebook or connect with existing ones where they can share pictures and daily life activities. Despite the presence of YouTube still, millions of videos are uploaded on Facebook which can be found on pages, public profiles, and personal profiles.
There are two different types of Facebook videos, Fb private videos, which can be seen by a limited number of audiences according to the privacy settings of the uploader and public Fb videos, which are visible to every Facebook user. As you know that there are tons of online Facebook videos downloaders, but one of them gives an option to download a private Facebook video as they are only limited to public ones. oDownloader has a unique feature where you can download any private Facebook video in a few seconds. Our expert developers have finally made this impossible thing possible with their advanced skills which will benefit millions of Facebook users.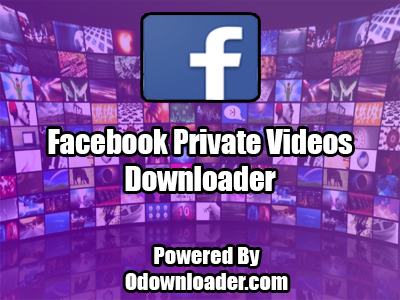 How To Download Private Videos On Facebook?
Well, the process is quite simple and easy with odownloader because you have to follow some basic steps to download any private video from Facebook.
Open Facebook.com and open any private Facebook video in a new tab.
Now right click on the page which is now opened in a new tab and click "View Page Source" option or press CTRL+U Keys.
Now the entire page source code will be displayed in front of you. You have to select the whole code by pressing CTRL+A and then Copy it using CTRL+C keys.
Now paste that code by pressing CTRL+V key in the section of the odownloader search bar.
Now Click the download button and begin downloading your favorite private Facebook videos in a matter of few seconds.
Final Words:
We understand the hassles behind downloading a private Facebook video especially when you are unaware of odownloader.com or similar platforms. We are quite sure that from now on you don't need to search "FB private videos downloader free" on various search engines. Remember!Many of the so-called Facebook private videos downloadersare fake with all the annoying advertisements that can redirect you unintentionally to a malicious website. Many people are confused about FB private videos downloader for iPhone and FB private videos downloader for android, as many of the online video downloading sites support android devices only. Odownloader is compatible with Android, IOS, and PC, so you don't have to worry about your device while downloading any Fb private video. If you have any questions related to downloader's Facebook private videos downloader online then feel free to contact us at [email protected].